Momotarou
Fan ochentero



Messages: 1,290
From: Nov/05/2005

·

Se estrenó en Japón el pasado noviembre, está basado en un manga corto de DAIJIROU MOROBOSHI (o MOROHOSHI) aparecido en 1976 y titulado "SEIMEI NO KI". Escrita y dirigida por TAKASHI KOMATSU y con EMA FUJISAWA, HIROSHI ABE, CHISUN, YUUREI YANAGI, HIROSHI KANBE, DAIKICHI SUGAWARA, YOSHIO TSUCHIYA, MASAMI HORIUCHI, MINORU SHIRAKI, TEISUI ICHIRYUUSAI, REIKO KUSAMURA y KOUJI SHIMIZU.

Noticia en Twitch: http://www.twitchfilm.net/archives/003856.html

Página oficial con trailers y noticias: http://www.kidan.jp/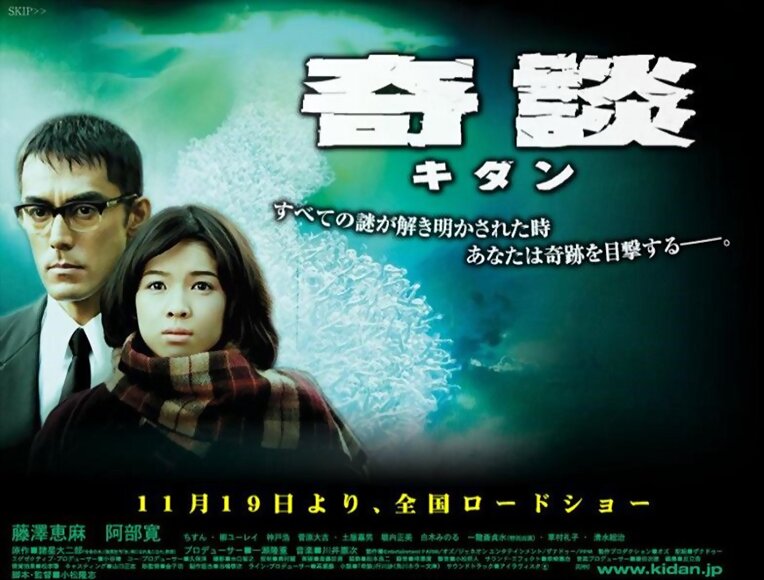 santxe
Administrador del foro



Messages: 14,425
From: Sep/24/2005

·

·
Ficha completita de esta peli en la
Japanese Horror Movies Database
:
Kidan
trans. Strang Story
Zanaduu, 2005, Color, Vista size, 84 mins.
Producer: Ichise Taka(shige)
Director: Komatsu Takashi
Based on the short comic:
"Youkai Hunter: Seimei no ki (trans. Monster Hunter; Tree of Life)" by Motoboshi Daijirou
Writer: Komatsu Takashi
Music: Kawai Kenji(I)
[Fotografía: Noriyuki Mizoguchi]

Cast: Fujisawa Ema ... Saeki Satomi
Abe Hiroshi(I) ... Hieda Reijirou
Chisun
Yanagi Yuurei
Kanbe Hiroshi
Horiuchi Masami
Shiraki Minoru
Ichiryuusai Teisui
Kusamura Reiko
Plot: Saeki Satomi a postgraduate student girl had been missing misteriosly, but she didn't remember it. She visited a Hidden Christian's village to call to mind, and she met a heretic archaologist named Hieda Reijirou. Satomi and Reijirou investigate the mystery of thei village, and so they knew the miracle beyond imagination.
Keywords: Missing
Hidden Christianity
santxe
Administrador del foro



Messages: 14,425
From: Sep/24/2005

·

·
#3
·

Sobre el desconocido mangaka
Daijiro Moroboshi
(Karuizawa, Nagano, 1949) encontraréis amplia información sobre su extensa obra (en japonés) en
http://momiji.sakura.ne.jp/~werdna/moroboshi/
y he pillao esta bio que traduzco / retoco (vía Babelfish) del francés:
"Nacido en 1949, MOROHOSHI Daijirô crece en Tokio, en el barrio de Adachi. Es después de una corta carrera en la función pública que se lanza a la historieta a finales de 1970, con dos relatos publicados en el estudio "COM". Sigue una obra profundamente singular, hecha de series a veces muy largas, pero sobre todo muy de numerosos relatos breves, formato en el cual sobresale. Prolífico, sin cesar su republicación, ampliamente admirado por los observadores japoneses, MOROHOSHI se coronó en 2000 con el IV Premio Cultural Tezuka por su obra más ambicioso, "Saiyû yôen den", una adaptación de la famosa novela china la Peregrinación hacia el Oeste."


La citada JHMDB lista las adaptaciones que su trabajo ha tenido en la pantalla:
1990.
Ankoku shinwa: Gaki no shou, Ten no shou (VIDEO)
1991.
Hiruko: Youkai Hunter (HIRUKO THE GOBLIN)
2005.
Kidan
2006.
Kabe-otoko
WARNING: This topic has not been active for more than 6 MONTHS.,
We advise you to open a new topic instead of answering to this one