santxe
Administrador del foro



Messages: 14,425
From: Sep/24/2005

·

·
Por las fotos de este blog japonés, tiene una pinta de ser otro plagio de lo más patético...
http://blog.livedoor.jp/textsite/archives/50172112.html
No parece tener relación alguna con "Dragon Ball, the Magic Begins" (por lo menos los Gokus no se parecen) sino que es algo aún peor (!)
http://www.badmovies.org/movies/dragonball/
¿qué diablos puede ser?
santxe
Administrador del foro



Messages: 14,425
From: Sep/24/2005

·

·
Acabo de descubrir que en realidad era una versión coreana y que acaba de ser editada en DVD por Asian Trash (por desgracia, en V. O. S. E), se titula "Dragon Ball Zero" y es del año 90. No se puede comprar en tiendas, sino que hay que pedirla a la página oficial de la casa, y además es un tirada muy pequeña de 100 ejemplares.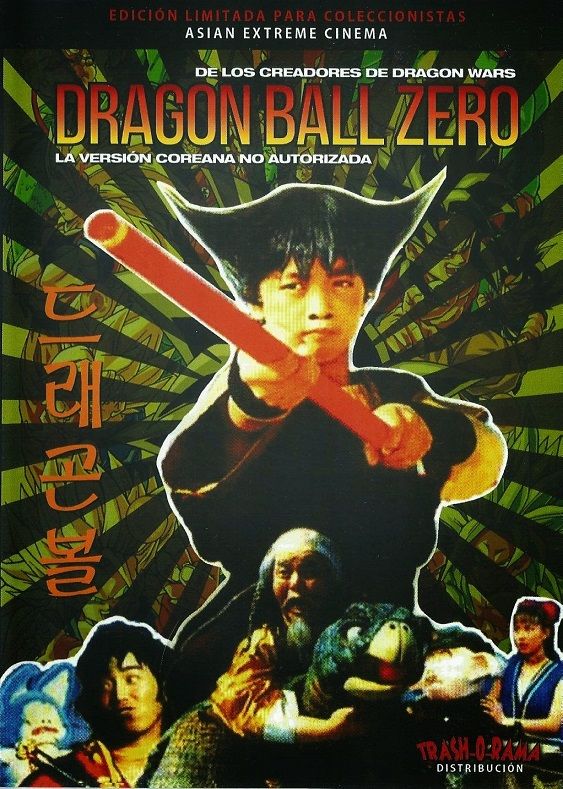 También he encontrado el póster original taiwanés de "Dragon Ball, the Magic Begins" (en España "Bola de dragón, la película").
Momotarou
Fan ochentero



Messages: 1,291
From: Nov/05/2005

·

#3
·

Parece que Asian Trash ha cambiado de estrategia, ya no van a distribuir en tiendas normales películas en sesión doble, y que sólo van a sacar pelis que no han sido editadas nunca en España.
WARNING: This topic has not been active for more than 6 MONTHS.,
We advise you to open a new topic instead of answering to this one