santxe


Administrador del foro



Mensajes: 26.193
Desde: 24/Sep/2005

·

·

#1
·

·
Cita:
60 segundos (Gone in 60 Seconds)
A fondo (À fond)
A pie, a caballo y en coche (

À pied, à cheval et en voiture

)
Adán a las 6 de la madrugada (Adam at 6 AM)
Ahí va ese bólido (The Love Bug)
Al volante y a lo loco (The Fast Lady)
American Graffiti
Amor a todo gas
Amor sobre ruedas
Amor y BH-33 (Le Tracassin ou Les plaisirs de la ville)
Asesino invisible (The Car)
Avidez de tragedia (The Crowd Roars)
Baby Driver
Banda aparte (Bande à part)

Blade Runner 2049

Bonnie y Clyde (Bonnie and Clyde)
Camas blandas, batallas duras (Soft Beds Hard Battles)
Cannonball
Carga maldita (Sorcerer)
Carrera salvaje (Car Crash)
Carretera al infierno (The Hitcher)
Carretera asfaltada de dos direcciones (Two-Lane Blacktop)
Carreteras secundarias
Cars

C'était un rendez-vous

Chitty Chitty Bang Bang
Christine
Coche 54 ¿dónde estás? (Car 54, Where Are You?)
Coche policial (Cop Car)
Collateral
Confesiones de un instructor (Confessions of a Driving Instructor)
Confesiones de un taxi driver (Adventures of a Taxi Driver)
Correrías de verano (Corvette Summer)
Corrupción en Miami (Miami Vice)
Crash
Crash Drive
Demasiado veloz para servir de blanco (Speedtrap)
Días de trueno (Days of Thunder)
Dos chalados y muchas curvas (The Dukes of Hazzard)
Diecisiete
Dos en la carretera (Two for the Road)
Dos policías rebeldes (Bad Boys)
Drive
Driver (The Driver)
Dulce o truco (auto)
El autobús atómico (The Big Bus)
El automóvil gris
El Cadillac rosa (Pink Cadillac)
El cochecito
El diablo sobre ruedas (Duel)
El equívoco (The Hireling)
El Escarabajo más loco del mundo (Das verrückteste Auto der Welt)
El gran robo (Robbery)
El hombre del Cadillac (Le corniaud)
El miedo es la clave (Fear Is the Key)
El misterio del automóvil" (Monsieur La Souris)
El mundo está loco, loco, loco, loco (It's a Mad, Mad, Mad, Mad World)
El Rolls-Royce amarillo (The Yellow Rolls-Royce)
El salario del miedo (Le salaire de la peur)
El taxi de los conflictos
El trío de la bencina (Die Drei von der Tankstelle)
El ultimátum de Bourne
Empezó con un beso (It Started with a Kiss)
Este coche es una ruina (Car Trouble)
Fangio
Fórmula 1 en el infierno del 'Grand Prix' (Formula 1 nell'inferno del Grand Prix)
Four Jills in a Jeep
Frenos rotos, coches locos (Used Cars)
Funny Car Summer
Getaway
Gone in 60 Seconds
Gran Torino
Grand Prix
Grand Prix en la montaña de los inventos (Flaklypa Grand Prix)
Grand Theft Auto
Granujas a todo ritmo (The Blues Brothers)
Grease (Brillantina)
Hacia rutas salvajes (Into the Wild)
Hot Car Girl

Hot Rod Gang

I vagabondi

Indianápolis (To Please a Lady)
Infierno sobre ruedas (Hell on Wheels)
It's a Gift
Jump
La bella americana (La Belle Américaine)
La boda era a las 12
La carrera de la muerte del año 2000 (Death Race 2000)
La carrera del siglo (The Great Race)
La escapada (Il sorpasso)
La fuga (Shaker Run)
La muerte de Robert Mitchum (Robert Mitchum est mort)
La naranja mecánica (A Clockwork Orange)
La suerte de los Logan (Logan Lucky)
Las aventuras de Priscilla, reina del desierto (The Adventures of Priscilla, Queen of the Desert)
Las cosas de la vida (Les choses de la vie)
Las vacaciones de Mr. Bean (Mr. Bean's Holiday)
Las 24 horas de Le Mans (Le Mans)
Le Mans '66 (Ford V Ferrari)
Le Mans, el circuito de la muerte
Loca evasión (The Sugarland Express)
Locos al volante (The Gumball Rally)
Los ángeles del volante
Los caraduras (Smokey and the Bandit)
Los coches que devoraron París (The Cars That Ate Paris)
Los intrépidos salvajes (Hi-Riders)
Los locos del Cannonball III (Speed Zone)
Los motorizados
Los rateros (The Reivers)
Los SuperCamorristas (Wheels on Meals)
Luna Negra (Black Moon)
Mad Max - Furia en la carretera (Mad Max Fury Road)
Mad Max - Salvajes de autopista (Mad Max)

Mercedes mon amour

Mi primo Vinny (My Cousin Vinny)

More American Graffiti
Muchachas en vacaciones
Muchachas que trabajan
Nightcrawler
Nunca juegues con extraños (Joy Ride)
Orfeo (Orphée)
Papá Cadillac (License to Drive)
Paseando a Miss Daisy (Driving Miss Daisy)
Peligro... línea 7.000 (Red Line 7000)
Pequeña

Miss Sunshine

(Little Miss Shunshine)
Perros callejeros
Pista de carreras (Speedway)
Punto límite, cero (Vanishing Point)
¿Quién engañó a Roger Rabbit? (Who Framed Roger Rabbit?)
Rayo Negro (Black Lightning)
Regreso al futuro (Back to the Future)
Retorno al condado de Macon (Return to Macon County)
Retorno al pasado (Out of the Past)
Ríos de sangre (Squadra volante, uccideteli... senza ragione)
RoboCop
Rush
Safari 3000
Safari 5000 (Eiko e no 5,000 kiro)
Sor Citroen
Speed Crazy
Speed - Máxima potencia
Speed Racer
Summer Holiday
Super Car Criminals
T-Bird Gang
Taxi Driver
Taxista de señoras
The Belgrade Phantom
The Car Owner
The Fast and the Furious
The Italian Job
The Lively Set
The Yellow Cab Man
Thelma & Louise
Thunder in Carolina
Tirando a matar (Impatto mortale)
Titanes de la velocidad (California Straight Ahead)
Todo en un día: Las aventuras de un golferas con clase (Ferris Bueller's Day Off)
Transporter (The Transporter)
Tucker, un hombre y su sueño (Tucker - The Man and His Dream)
Un Cadillac de oro macizo (A Solid Gold Cadillac)
Un Rolls para Hipólito
Un taxi malva (Un taxi mauve)
Un trabajo en Italia (The Italian Job)
Una mamá sin freno (Big Bad Mama)
Una mujer en un taxi
Vacaciones en Roma (Roman Holiday)
Ya tenemos coche
Automan
El coche fantástico (Knight Rider)
En ruta (Movin' On)
La segunda oportunidad
Los autos locos (Wacky Races)
Los camioneros
Starsky y Hutch
Stop
Tres en la carretera (Three for the Road)
Poster de "Al volante y a lo loco" (The Fast Lady) del 62.
santxe


Administrador del foro



Mensajes: 26.193
Desde: 24/Sep/2005

·

·

#2
·

"Hot Car Girl" del 58-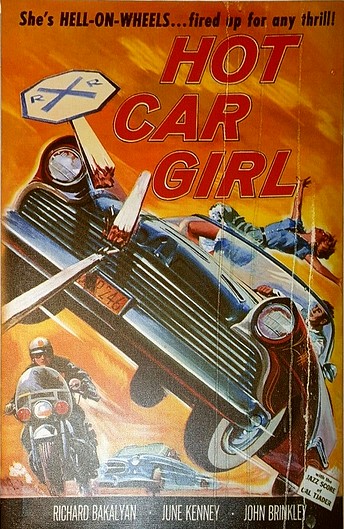 hdjzgz


Usuario VIP



Mensajes: 4.216
Desde: 05/Ago/2010

·

#3
·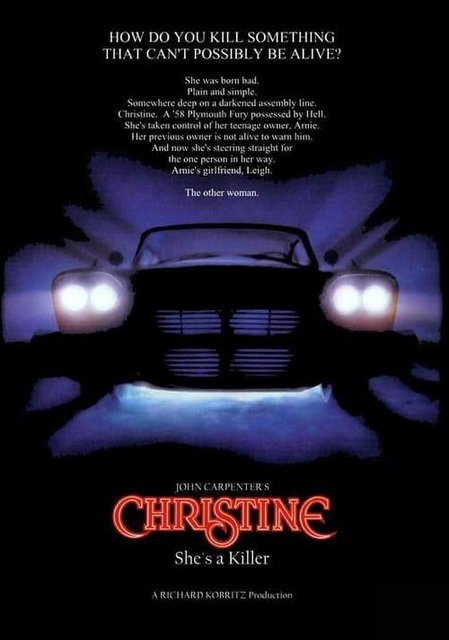 hdjzgz


Usuario VIP



Mensajes: 4.216
Desde: 05/Ago/2010

·

hdjzgz


Usuario VIP



Mensajes: 4.216
Desde: 05/Ago/2010

·

#5
·

hdjzgz


Usuario VIP



Mensajes: 4.216
Desde: 05/Ago/2010

·

#6
·

Cita:
Podemos disfrutar de una amplia galería de coches realmente míticos: el Buick Special, uno de 1956 y uno de 1957; Cadillac Series 62 de 1953; Chevrolet Blair del 56; Chevrolet Fleetline Special del 49; Dodge Cornet del 50; Ford del 48; Dogde Wayfire del 49; Dodge Custome Royal del 56; Ford de Luxe del 48; Mercury Custom del 49; Oldsmobile Super 88 del 53; Plymouth Savoy del 56 y Studebaker Comander Regal del 48. Pero sin duda, el número de uno de esta película fue el Ford de Luxe
calros


Usuario VIP



Mensajes: 22.309
Desde: 24/Sep/2005

·

·

#7
·

"Un Cadillac de oro macizo" (A Solid Gold Cadillac, 1956)
santxe


Administrador del foro



Mensajes: 26.193
Desde: 24/Sep/2005

·

·

#8
·

"Asesino invisible" (The Car) del 77.
Lincoln Continental del 71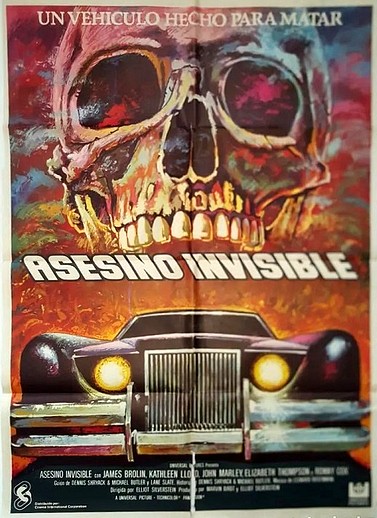 Aljotace


Usuario VIP



Mensajes: 848
Desde: 30/Jun/2020

·

#9
·

Vamos con una producción ibérica. "El cochecito", de Marco Ferreri (1960)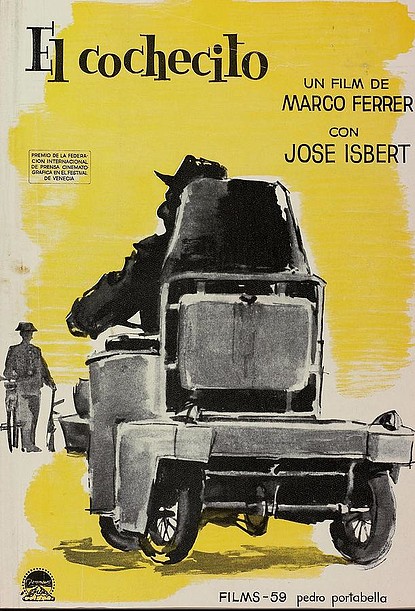 santxe


Administrador del foro



Mensajes: 26.193
Desde: 24/Sep/2005

·

·

#10
·

Pues es verdad, hasta ahora no habíamos puesto ninguna española.
Opciones:Subscríbete a este tema
Date de baja de este tema

TU NO PUEDES Escribir nuevos temas en este foro
TU NO PUEDES Responder a los temas en este foro
TU NO PUEDES Editar tus propios mensajes en este foro
TU NO PUEDES Borrar tus propios mensajes en este foro


Ahora son las 21:10 UTC+01:00